The tent demonstration by Northern Syrian youth organizations in the Semalka Border Gate by the Rojava-Southern Kurdistan border continues. The demonstration started on July 24 after Southern Kurdistan government representatives didn't allow Northern Syrian youth to cross the border to support the people of the South against the invading Turkish army attacks.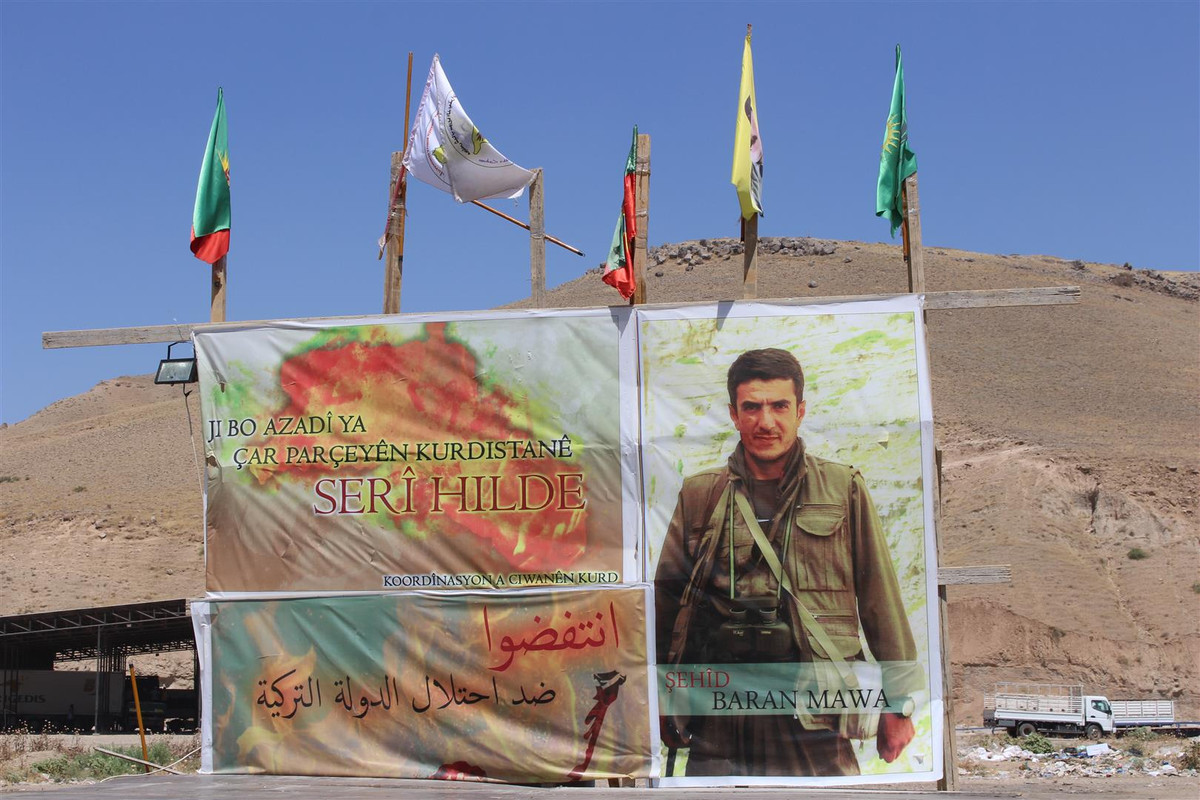 Northern Syrian youth wanted to cross into Southern Kurdistan lands to support the human shield action launched by Kurdistan youth against the invasion attacks by the Turkish state in Qandil and Southern Kurdistan territory, but KDP officials refused them entry through the Semalka Border Gate.
Northern Syrian youth launched a demonstration on July 24 and set up a tent in front of the border gate.
Rojava Youth Union Administration Member Kahraman Hebûn stated that they held daily panel discussions and seminars and received visitors.
MANY DELEGATIONS VISIT THE TENT
Hebûn said the tent demonstration was visited by delegations of council members and representatives of the people, and added that political party representatives and Martyrs' Families Assembly, Social Defense Forces and Kongreya Star members also held visits.
Hebûn continued: "The visits give us morale and resolve to carry our demonstration to its goals."
Hebûn said they increased their actions as part of the Serî Hilde (Rise Up) Campaign especially after the Turkish state invaded Afrin and forced the people out, and it led to a demographic change as Turkmens and gang members were settled in the region.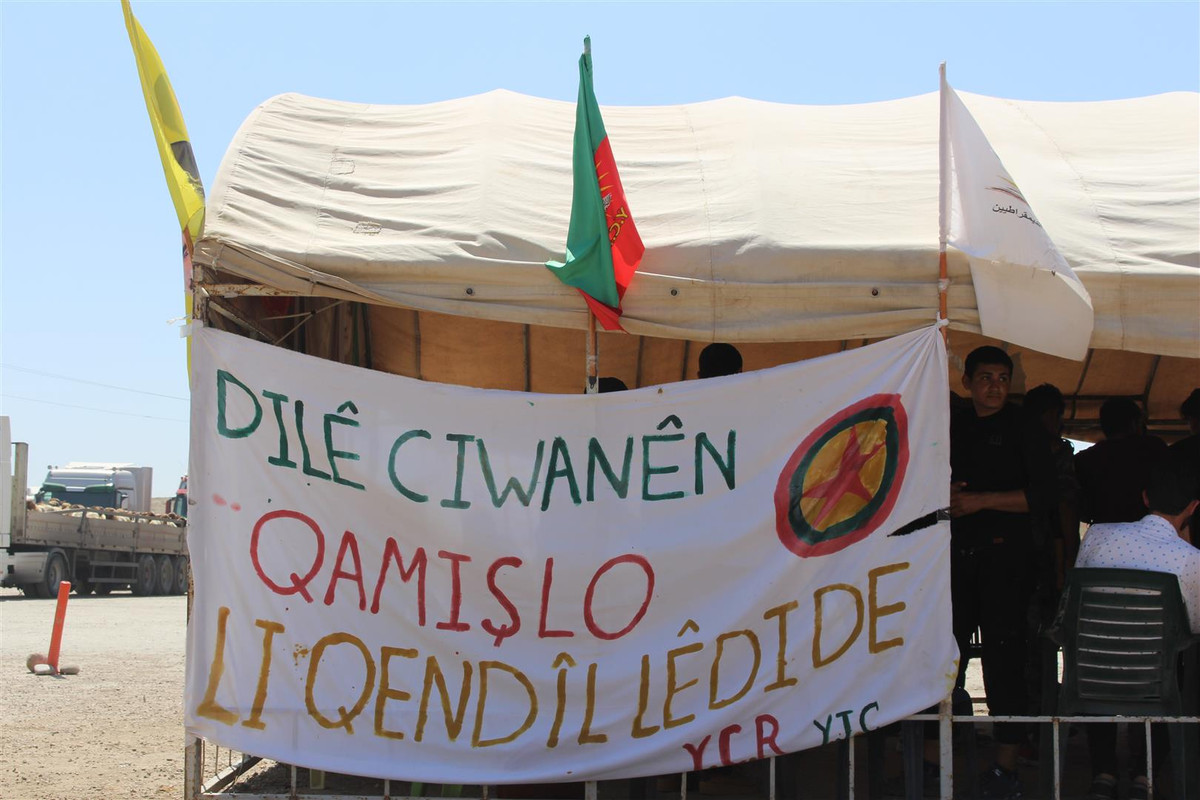 "WE WILL CONTINUE OUR ACTIONS UNTIL OUR GOALS ARE MET"
Hebûn said they started the tent demonstration when the KDP didn't allow them to go into Southern Kurdistan, and added that they continue with great morale despite the very hot weather."
Hebûn said the following on the goals of the demonstration: "Our goal here is to expose the inhumane practices of the invading Turkish state against the civilian population and the KDP's collaboration with the Turkish invaders and treason as they refuse to allow entry to the South for the youth. We will not take a single step backwards until the last drop of our blood in the Serî Hilde campaign."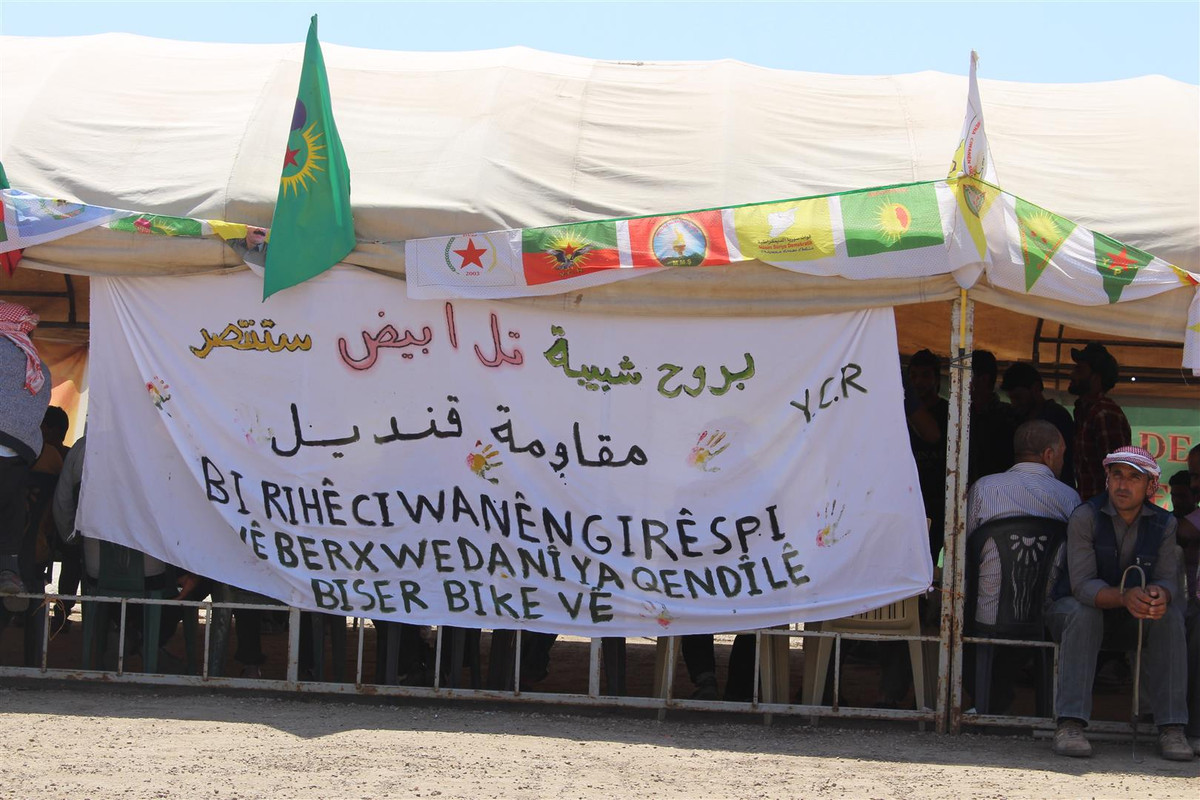 YOUTH ORGANIZATIONS IN THE CAMPAIGN
Rojava Youth Union Administration Member Kahraman Hebûn listed the participating youth organizations as: Yekitiya Rojava (Rojava Union), Ciwanên PYD'ê (PYD Youth), Yekitiya Jinên Ciwan (Young Women's Union), Ciwanên MSD'ê (MSD Youth), Yekitiya Xwendekarên Demokratîk (Democratic Students Union), Ciwanên Tirkmen (Turkmen Youth), Ciwanên Ereb (Arab Youth) and Ciwanên Enternasyonalîst (Internationalist Youth).
Hebûn called on all Northern Syrian and Kurdistan democratic youth and urged them to fight dictatorial governments and those who colonize Kurdistan and create borders fragmenting Kurdistan, realizing the dreams of those who were martyred for this cause.